2015 travel plans emerged quickly based on some personal commitments. I had no intentions of going to Europe this year and yet I found myself there twice this summer; thank you American Airlines, United, and Delta airlines for having available award space for last minute travel. There were so many great travel memories from the year it is hard to choose but I will attempt a top 5 list. For reference of where 2015 destinations included take a look at the Recent Trips page.
Best Festival – Cordoba Spain: La Fiesta de Los Patios (May 2015)
I was so luck that my trip to Europe was timed perfectly to attend the festival as the patios are only open for 2 weeks in May. It was such an incredible experience to "visit" so many private homes to enjoy the gorgeous garden patios with flowers blooming.
Best Tour – Toulouse France: Airbus Factory (May 2015)
So my travel addiction takes me to seminars to talk about travel with other fellow addicts. In May a few of my long time friends and I had the pure pleasure to complete a wish list tour by attending a Mega Do event. The original agenda for our group was going to include factory tour of Airbus A350. However when we arrived they had a bigger treat for us that they NEVER offer anyone else…..a self guided tour of a Airbus A380 still in testing phase. Unfortunately we had anticipated we were going to be in the factory where no cameras were allowed; so while I got to sit in the cockpit I have no photographic evidence. However I was awestruck to walk around this plane which had merely the electronic equipment and the whole inside body was wide open. I have yet to fly in one of these planes as sadly Chicago Ohare is not yet equipped to support A380 planes. It is the largest passenger plane yet which can hold a maximum of 525 passengers, 3000 suitcases, 81,900 gallons gasoline and weighs approximately 590 tons. It is a beauty to see with a wingspan over 50% larger than a Boeing 747. For any airplane geeks like me check out the video but keep in mind that each airline makes configuration variances to their needs as some first class are now suites including showers!
Best site – Seville Spain: Real Alcazar de Sevilla (May 2015) Well UNESCO sites never disappoint and this one is no exception. The photos I took will give you limited insight but here are the videos to virtual tour will give you better perspective. The architecture of this palace left me speechless. Every corner you turn the architecture and views only continue to get better!
Best natural site – Kauai Hawaii (November 2015) OMG! I said it before but I will say it again. One of the most beautiful places I have been. Everywhere you look it was continuously amazing views. Literally like living in a postcard! Put it on your wish list if you have have never been! Here are some photos to get you thinking about it.
Lost in Translations – Tokyo Japan: Tokyo train station (November 2015)
On my return home from the Island Hopper Bonanza I had a 24 hour stopover in Tokyo. I had never been to Tokyo and was a little apprehensive how things would go traveling on my own in a land where I could not even read the signs. I had done extensive research and prepared for my visit including printing out the train station map as I heard stories of people getting lost in train stations for hours. My arrival went relatively smoothly however my departure is where things fell apart. I entered the Tokyo train station which ended up being a mall and restaurant section but could not find any signs to the actual train platforms. After walking around for over 30 minutes I started to panic thinking I might miss my train and possibly flight home. A lovely Japanese woman approached me asking if I needed assistance. She then proceeded to guide me through the train station right up to the gates of the train station ticket gate for the train line I needed. I could not thank her enough. This experience reminds me of many other times I have gotten assistance from strangers when traveling. Random acts of kindness do exist.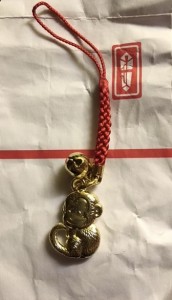 So it must have been my lucky day as I waited for the train a Japanese women approached me with a small gift. Based on the packaging it looked similar to the small gift I received after making a purchase at the temple. While no words were exchanged it was clear that she wanted me to have it. Then about 30 seconds later she was back to explain to me that it was a charm that you attach to zippers on purses etc. I was blessed with kindness twice within one hour; once again travel reminds me to practice gratitude.
I wish you a very Happy New Year and hope that your plans for 2016 include travel!
Seek your adventure!