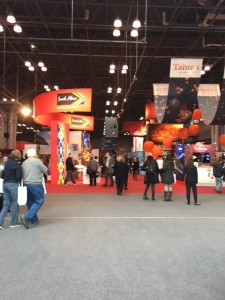 This past weekend I attend the New York Times Travel Show in one of my favorite cities.  I love New York!  This is the largest travel show in North America and it was impressive.  I can hardly wait for next year's event.
Here are the highlights of what I learned from the seminars, exhibits, vendors, etc…
CUBA
You can take yourself.  No Group required.  No special visa required.  Identify travel activities in one of the 12 categories.  As Arthur Frommer the "grandfather of travel" says  book your own flight.
Best airfare prices
Domestic travel book at miminum 57 days advance
International travel book at minimum 171 days advance
Sunday is cheapest day of the week to purchase average 19% lower
Saturday, Tuesday and Wednesday are the cheapest days to fly
skyscanner.net & momondo.com consistently showed lowest airfare prices
2016 Top Destinations
Colombia – new airline from Miami called Viva Colombia with low prices
Iceland
Chennai & Kerala India
Canada – amazing exchange rate!
Japan – amazing exchange rate!
Champagne France – amazing exchange rate and drink real champagne all day!
Celebrate 100th anniversary of National Parks
Grand Rapids, Michigan
Washington DC
Russia – amazing exchange rate!
Seek your adventure!