You may recall that I don't have a loyalty to any airline especially in today's travel market place where achieving status from "butt in seat miles" takes a lot of time sitting on a plane.  I have travelled on many airlines over the years including the "no thrills" to the highest rated in the industry; however I have a new favorite airline.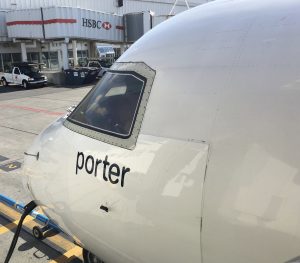 Are you ready?  Drum roll please….it is Porter Airlines!  Hmmm I know what most of you are thinking; how have I have never heard of this airline.  Well, it is a small airline that is
headquartered in Toronto, Canada.  Porter has flights to 15 destinations in Canada and 8 US destinations focused on the East coast and Midwest regions.  It has been named "Top Small Airline in the World" by Conde Nast Traveler Readers Choice Award.
What I love about Porter Airlines:
The flight attendants had genuine smiles on their faces because they were enjoying their job.
Everyone is treated with respect.  The boarding process is extremely simple allowing those who need extra time or assistance to go first followed by Porter Premium Access.  We then commence with general boarding process.  There is no song and dance about lining up in group numbers or boarding by what status level you are today.  Easy and simple.
 The seat configuration allows for a very generous 17 inch seat width and 32 seat pitch.   This is the same legroom you pay extra for on most carriers.
There are no middle seats!  All of the flights use a Bombardier Q400 which has a 2 – 2 configuration.
Everyone gets lounge access in Toronto!  The lounge offers complimentary snacks, sodas, teas, coffee and espresso machines.
On every flight a selection of snacks is offered complimentary along with your choice of beverage including beer or wine.  Your beverage is served; wait for it…in real glassware.  Wow free upgrade to 1st class!
Amazing customer service from everyone you encounter associated to the airline.  Even though I had to check my bag on the return flight due to a strict carryon weight limit;  the agent was very kind to remind me that if I paid for the baggages fees online it would be $10 cheaper.
The airline has an adorable stylized raccoon character as their mascot named Mr. Porter.  How fun is that!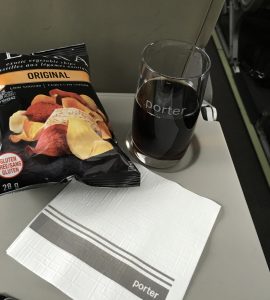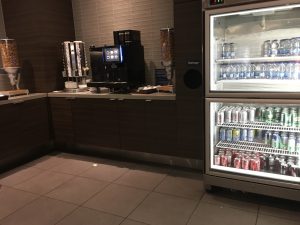 What would I wish for?
I hope that Porter expands it's routes and considers adding a hub in the US.
Given that Porter is currently a privately held wholly owned subsidiary I hope that as growth continues they don't lose sight of their amazing brand for a little extra profit.
While Porter Airline's tag line states "flying refined" it definitely captures their classy service and image.  However I think that Porter Airlines exemplifies what airline travel should be; or perhaps it is a reminder of travel standards from the glory days of 1960's.    It is comforting to know there is at least one airline that treats you with dignity;  regardless of your ticketed class.
Seek your adventure!