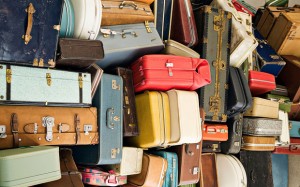 For me looking at luggage is like a kid in the candy story.  I want one of each!  I have purchased many pieces of luggage over the years and have learned what features are important.
For carry on rolling suitcases there are 3 primary things:
Are the wheels built with solid quality construction?  

This is very important!  Solid construction on the wheels will make the suitcase so much better.  I prefer the spinner wheels (aka 4 wheels) so you can simply stroll the suitcase next to you.
What is the weight of the suitcase empty?

This should ideally be no more than 9 lbs otherwise you limit what's in the suitcase.
Is the suitcase expandable?

I will often put extra items in my suitcase when in transit on a train.  Or if I did some shopping and I need to check my suitcase on the return journey home.
My current suitcase that is utilized for nearly every trip at the moment is Travelpro Crew 10 21″ Expandable Spinner.  Travelpro is a luggage brand that is very popular with pilots and flight attendents.  I figure if they travel on nearly daily basis and it works for them; it must be good.  BTW you will notice the link for the suitcase was to ebags.com which is where I purchase most of luggage and travel gear.  The often have sales and there is usually a promo code floating around on the internet.
Keep in mind every airline has different carry on limits so take this into consideration before you buy something.
Regardless of what suitcase you utilize please do yourself a favor as most suitcases are black so find some way to distinguish your suitcase.  A popular option is to put luggage handle wraps on the handles that will make your bag stand out.  This will help you quickly identify your bag when you are deplaning after a long journey.  Sorry one more thing, please ensure you have a luggage tag with your name and address information.  I personally prefer a luggage tag that provides privacy to my address so the person standing behind cannot read my address and decide to show up at my door the next day.
Seek your adventure!