I was reminded this week that as a travel addict I take for granted all the information I have on how to book a trip.  Given that travel agencies in today's world are utilized for specialized trips the average consumer rarely has a need.  So where do we begin?
Question 1: Where do you want to go?
This sounds like something you would know the answer to but sometimes you need inspiration.  I read travel magazines, blogs, websites, travel books, and etc so my backlog wish list of places to visit will take me into the next decade without a doubt.
However I find that visual images always help quickly inspire the "I want to go there" feeling.  Take a look at Lonely Planet, National Geographic Travel,  BBC Travel  and the guaranteed to knock your socks of sights from UNESCO World Heritage.
Or if you are driven strictly by price perhaps start with Google Flights to get an idea where you can go for how much and when.
Question 2: Where should I search for flights?
I have three favorites at the moment each has their own advantages.  I never book with any of these websites and many of them don't support bookings.
Kayak is great for various simple or complex searches: round trip with flexible dates, one way, and multiple city only option is static dates.
Hipmunk is great for a visual view of flight timings and default sort by agony.
Routehappy is fabulous for long flights when you are looking for comfortable seats.   It rates the flight by timings and you can search for various aircraft features.
Question 3: Where should I purchase my flights?
I prefer to book directly with the airline carrier.  However sometimes you cannot find the same rate on the airline website or you are trying to book multiple airline carriers in one ticket; in those instances I try to book it on Expedia.  I find that Expedia has good customer service and I have never had an issue with flights booked on Expedia.  We will talk about hotels another day but I general do a search on Expedia to see if booking a flight and hotel combination will save money.
Okay so now you are ready to book your flights.  Hold on one minute!  Please, please, please make sure that you have signed up for the airlines frequent flyer program.  First and foremost it makes finding your reservation for the agents so much easier.  Second, I personally think it should be a crime to not collect your hard earned "butt in seat" miles flown.  Even if you don't fly that airline on a regular basis; you never know what tomorrow brings.
So with your airline frequent flier number in hand proceed to the airline website to make your flight reservations.  Most airlines still give you an option to select your seats at the time of booking with no additional charge.  You should do this right now!  While you have the airline website open you can find out where the best and worst seats are by looking at Seatguru as there is nothing worse getting stuck next to the toilets or in the overhead bin like this guy.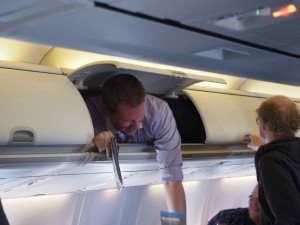 Note:  Don't try this on a commercial flight!  This was at conference for a travel addicts.  We "borrowed" a plane for the day and decided to have a little fun!
In a future post we will talk about the importance of travel insurance and booking hotels.
Seek your adventure now!